It's been a while since we've taken a look around the league together, so I figure that with nothing else stopping us - no breaking news, no on-air TV decisions - now's the perfect time to do so.
I'm going to start with a story I'm sure all of us found quite funny, and if you didn't well then I've got two words for ya: Kwame Brown!! Closely followed by, "signs with the Bobcats." Closely followed by, "who are led by Michael Jordan." The same Michael Jordan and the same Kwame Brown that led to what has to be a front runner for "Worst Number One Overall Pick Ever In Any Sport Of Any Type Ever."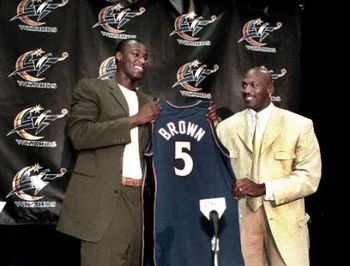 The nine-year pro averaged 3 points and 4 boards in 14 minutes last season for Detroit, and has now agreed to a one-year vet's minimum with Charlotte - a team undoubtedly on the rise in the East but also one that has made some questionable decisions.