Profiling the NBA Draft, late First Round: Evan Fournier
In addition to the 4th overall pick on June 28th, the Cleveland Cavaliers also own the 24th, 33rd, and 34th selections. In a continued look at who could be available in the late first round / early second for the Cavs, below is our latest on Evan Fournier from France. Our previous posts in this series on Andrew Nicholson, Will Barton, Draymond Green and Jeff Taylor can be found here, here, here and here.

To follow StepienRules.com Writer Nick Mancini on Twitter go here:  @nickmance

No. 26 – Evan Fournier, France; 2011-12 stats: 14 ppg, 3.2 rpg, 2.2 apg, 42% shooting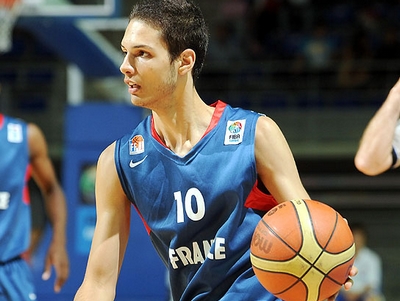 Last year, I bought into the international hype. From Enes Kanter to Jonas Valanciunas to Jan Vesely, I beat the drum on all three of them to end up in Cleveland. Thankfully, that didn't happen.

Kanter and Vesely were minimal contributors this past season, and the Raptors are still working to get Valanciuns to the NBA. This year, there isn't as much hype surrounding the list of overseas draft candidates. The guy who is at the top of everyone's list in that category is Evan Fournier though, a guard/forward from France.

Now, admittedly, I know little to nothing about this guy. Some of his highlights on YouTube weren't the greatest either. But I will try my best here.

From what I can gather, Fournier is a smooth player and a solid scorer. At 19, he will be one of the youngest players in the draft. He was playing at one of the highest levels in France, and he was producing solid numbers. He is great at getting to the rim and has nice ball handling skills for a 6-7 forward. He has a good jumper as well, which he mainly uses in the midrange game.
A downside to Fournier is he isn't the greatest athlete. He doesn't have the greatest quickness, and in the NBA the premier athletes are at the 3. The competition he is playing against more than likely doesn't equate to what he will see once he gets to the NBA.

For teams looking to stash a player overseas, Fournier is going to be a main guy to look at. For the Cavs, I think it would be the wrong way to go with their 24th pick. The Cavs haven't had much to show on some of their international picks (We will miss you Skyenga).

With all the talent in this draft, to use a pick on a player who may not be here for a few years, I think would almost be wasting a pick. The Cavs would be much better off taking someone who will be able to contribute immediately; and at 24, there will be plenty of those guy around.
Hype.
It's easy to swallow, tougher to digest.
Vesely sounded great to me last year, and I liked Kanter until I saw his workout.
Then again, it's impossible to evaluate college players when they have four, formidable scoring options on the floor at the same time they play.
And when a player on a weaker team shoots only 30% from beyond the arc, is he that inaccurate or does he have two defenders hanging on him, hounding him every time he gets the ball, because no one else on his team scores?
Last year, the Cavs seem to have obtained exactly what they thought they were getting. 
Thompson is talented, and a long-term project.
Irving is an immediate star who elevated the entire team.
The Cavs need a player who can excel in this league at 4, and can go with a project at 24.