What if history were just a bit different?
Let's go back a bit to the 2003-2004 season, and change a few things around...
The Cavs and the Heat both played their first seasons with their new rookie phenoms, LeBron Jamesand Dwyane Wade. The Cavs, coached by Paul Silas, finished their season at 35-47 (9th in the East). The Heat, coached by Stan Van Gundy, finished at 42-40 (4th in the East), and advanced to the 2nd round of the playoffs. The Cavs improved by 18 games from the previous season, the Heat by 17.
Photo Credit:
Cleveland.com
The postseason progresses, and those upstart Pistons beat the Lakers in the finals. That was the straw that broke the camel's back in LA, and out of Kobe, Shaq, and Phil Jackson, only Kobe was left. Phil retired, and Shaq forced a trade... to the Cleveland Cavs.
Photo Credit:
SoCal SportsHub
The Cavs were a franchise that had been through a bad spell over the past few years. They last had a big name in town when Shawn Kemp played the end of his glory days in Cleveland. But Shaq? Could Cleveland ever bring in someone that huge (literally and figuratively)? 
Well, it's really all a matter of how badly Shaq needed to get out of LA. It wasn't cheap. It cost the Cavs Carlos Boozer, Tony Battie, journeyman Eric Williams, and a future first-round pick. But Cavs GM Jim Paxson wanted to build around a core of new talent LeBron James, until-then 2nd banana Ricky Davis, and Shaq. With a great backup center in Zydrunas Ilgauskas, the Cavs would be able to keep a talented center on the floor at all times.


Over the next two seasons (2004-2005 and 2005-2006), the Cavs have their share of injury troubles (Shaq and Z have hip, back, and foot problems), and LeBron was able to help them battle through the playoffs. Then, when the spring and summer of 2006 rolled around, everything started to click. The Cavs were on a date with destiny, and they were headed to the NBA finals to face the best team in the West, the Dallas Mavericks.

The Cavs didn't know what hit them in the in the first two games the series. Dallas was able to manhandle them, and they didn't seem to have an answer for them. Then the series came back to Cleveland. With the home crowd behind them, LeBron, Shaq, Z, and Ricky Davis threw everything they had at Dallas. Four games later, Cleveland got its first NBA Championship. 
In those two seasons, Wade was surrounded by players with bad contracts, and a city that had a hard time coming out to support its team (they were more of a football town, anyway). In 2007, Wade dragged his ragtag team on his back, all the way to the finals (one year after his friend LeBron won it all), only to get swept in 4 embarrassing games by the Spurs.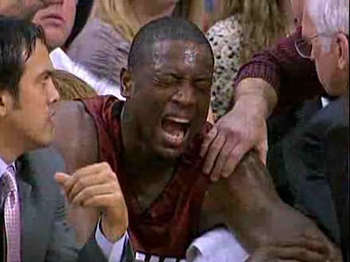 Photo Credit:
Bleacher Report
Everyone knew Wade got them there, and Wade let them know with his new contract that the Heat had until 2010 to make sure he got back there again. But it wasn't enough to get back there. Wade wanted to win it all, and build a dynasty in Miami. 

Fast forward to the 2008 Olympics. Wade and LeBron stay up late one night and one says to the other "We ARE playing together in 2010. You and me, man, we can win it all for years."
Fast forward to 2009-2010. The Cavs have positioned themselves with a bunch of crappy contracts. They know they aren't going to win a title this year. But if they can keep their team competitive and keep LeBron happy, then maybe there's a good chance they can sign another major player during free agency in July.
But for Miami, this is their last chance to win it all. If they don't, they can kiss Wade goodbye. They've done all they can to make Wade happy. They drafted. They traded. They signed. They spent. They're big now. And fast. And can score. But they're still terrified at losing Wade. 
But LeBron will never go. Because it's Cleveland. And he's already won a title. So the management can continue to keep subpar talent around him because they already cashed in on their first championship 4 years ago. But would LeBron have been so lucky if Shaq hadn't landed in his lap?
OK, back to reality..
Now, what if history were different? How would the destinies of these franchises be carried out? It's impossible to know. But there are a few certainties: 
1) Shaq going to Miami was HUGE. The Heat gave up talent for him, it obviously paid off with a title. As warm and entertaining and big of a city as Miami is, if Wade didn't already have a title there, I don't think 99% of the world would assume he was staying put. 2)
As Windhorst pointed out a few weeks ago
, the situations in Cleveland and Miami with LeBron and Wade aren't too different, but these two clubs couldn't be treating their stars any more differently. The Heat realize that they won't go far in the playoffs with the team they have assembled. It's not so much a team, as it is contracts with serviceable abilities. The Cavs are DYING to do whatever they can to get LeBron to stay. They want to win now, and they want to put themselves in a position to win again later. That's the only way to keep him.
So what is making these clubs treat their players so differently? Is it the fact that Miami has a championship? Is it because Miami is a "better" city than Cleveland (even though the Q sells out every game, and enough tumbleweeds couldn't fill American Airlines Arena)? Is it because Cleveland is acting too desperate? Is Cleveland a small market, even though LeBron has a deal with Nike and McDonalds? Or maybe it has something to do with Pat Riley? That guy knows how to win championships (even without happening to have one of the best centers of all time fall into your possession for 75cents on the dollar). 
So where is LeBron going? Only LeBron knows that. But if
Bill Simmons
 and
Sam Smith
and whoever else think they have a better idea than the rest of us do, they're wrong. Where do I think he's going? Well, since you asked, I really don't know. But if I had to guess, I would guess he stays in Cleveland. He's got roots. He's got endorsements. He's got chemistry. And he's got clout over his club. 
Note:
Shaq was traded to the Heat on July 14, 2004
for Lamar Odom, Caron Butler, Brian Grant, and a future first-rounder. The trade I made up above was the closest I could approximate in talent. And Z on the Cavs would be comparable to Zo on the Heat.